08 Januar 2006 - 23:59 -- Tyler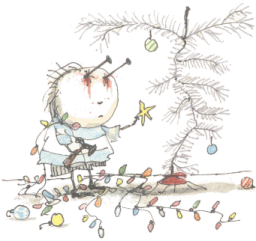 The Boy with Nails in his Eyes
put up his aluminium tree.
It looked pretty strange
because he couldn't really see.
Das ist von Tim Burton und auf verstörende Art niedlich und grausam zugleich. Es ist aus seinem Gedichtband
The Melancholy Death of Oyster Boy & other stories
. Ich kannte ihn bisher nur als Regisseur, aber eigentlich wurde Burton ja als Zeichner bei Disney ausgebildet. Ausgerechnet dort! Kaum vorstellbar, wie sehr er gelitten haben muss.
Über seine Arbeit an
Cap und Capper
, das ist dieser Disney-Freundschaftsfilm mit dem Jagdhund und dem Fuchs, heißt es:
"...it drove him absolutely insane. He did bizarre things such as sitting in his closet and refusing to come out, sitting on or under his desk, biting anyone who came near him, and at one point, he even managed to rip out his wisdom teeth and run down the hall, letting his gums bleed.
"
Ähm... ja. Schön, dass er unter seinem Schreibtisch wieder vorgekrochen ist und doch was gefunden hat, was ihm Spaß macht. Zum Beispiel morbide Gedichte über kindliche Außenseiter schreiben. Über Robot Boy, der das Ergebnis eines Seitensprungs seiner Mutter mit einer Mikrowelle ist ("an unholy alliance ... with an kitchen appliance"). Oder Toxic Boy, der an frischer Luft stirbt. Oder Voodoo Girl: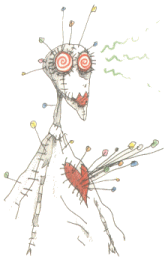 Her skin is white cloth,
and she's all sewn apart
and she has many colored pins
sticking out of her heart.

She has many different zombies
who are deeply in her trance.
She even has a zombie
who was originally from France.


But she knows she has a curse on her,
a curse she cannot win.
For if someone gets
too close to her,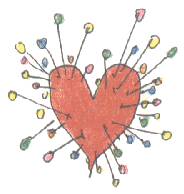 the pins stick farther in.
Erinnert mich ein bisschen an die
schrägen Kinder-Gedichte von Ringelnatz
. The girl who turned into a bed: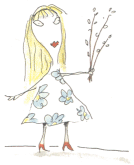 It happened that day
she picked up a strange pussy willow.
Her head swelled up white
and a soft as a pillow.

Her skin, which had turned
all flaky and rotten,
was now replaced
with 100% cotton.

Through her organs and torso
she sprouted like wings,
a beautiful set
of matress and springs.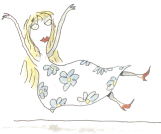 It was so terribly strange
that I started to weep.
But at least after that
I had a nice place to sleep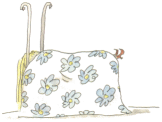 ---------------
P.S.
Das ganze gibt es auch noch als
Spielzeug
und
Flashfilmchen
. Muss man sich aber nicht anschauen, ist nicht gedichtet und mit seltsamer Handlung. Wird aber trotzdem sogar von
imdb
gelistet, nur weil es von einem etablierten Filmemacher verantwortet wird.